Platinum Choice VUL 2 
Over the past several years, the primary VUL products being sold by BGAs, point of sale professionals, and agents have been lifetime no-lapse guaranteed (NLG) solutions. Namely, Lincoln's VUL ONE and Prudential's VUL Protector products. Following AG-38, these fully guaranteed VUL products priced better than their GUL counterparts and enjoyed strong popularity. Today, a new carrier has entered the lifetime NLG VUL space and offers a leading option for the competitive spreadsheets. Like the others, this product is very competitive in single pay, short pay, and 1035 exchanges. The max issue age is 80 with AIG's product and they have called their new product Platinum Choice VUL 2. It offers four primary guarantees that deliver a unique, full-package solution:
Guaranteed Death Benefit – The GMDB rider built in to the standard client age 121, which is the standard for lifetime NLG VUL products.
Guaranteed Cash Value Protection – Available through full surrender only and guarantees a minimum cash value amount buildup, starting at year 10.
Guaranteed Return of Premium – Clients can surrender after year 20 and get half their money (premiums) back, or surrender it after year 25 and get it all back.
Guaranteed Chronic Illness Benefit – Optional at an additional cost, and offers the typical chronic illness benefits if a client qualifies.
AIG has a nice investment lineup to accompany this product. The weighted average fund cost is 75 basis points, which is high in comparison to other lineups. So, when running the illustration, be sure to select the funds and allocation that the client will likely use. You may have better results that way, and honestly should be done for any VUL illustration comparison. The carriers vary quite a bit in this regard and can have a big impact on the illustrations.
As highlighted on the next page, the illustration has a nice overview page, highlighting the four areas of protection and guarantees. This is very helpful for use with agents and clients. AIG's use of the associated colors and graphics for the four different guarantees is also clever and visually appealing. Having these guarantees gives the client more flexibility as life events occur, and the return of premium and GMCV options gives them an additional exit strategy if needed.
The next time you are taking a look at Lincoln and Prudential, add AIG into the mix to see where they fall for a particular client.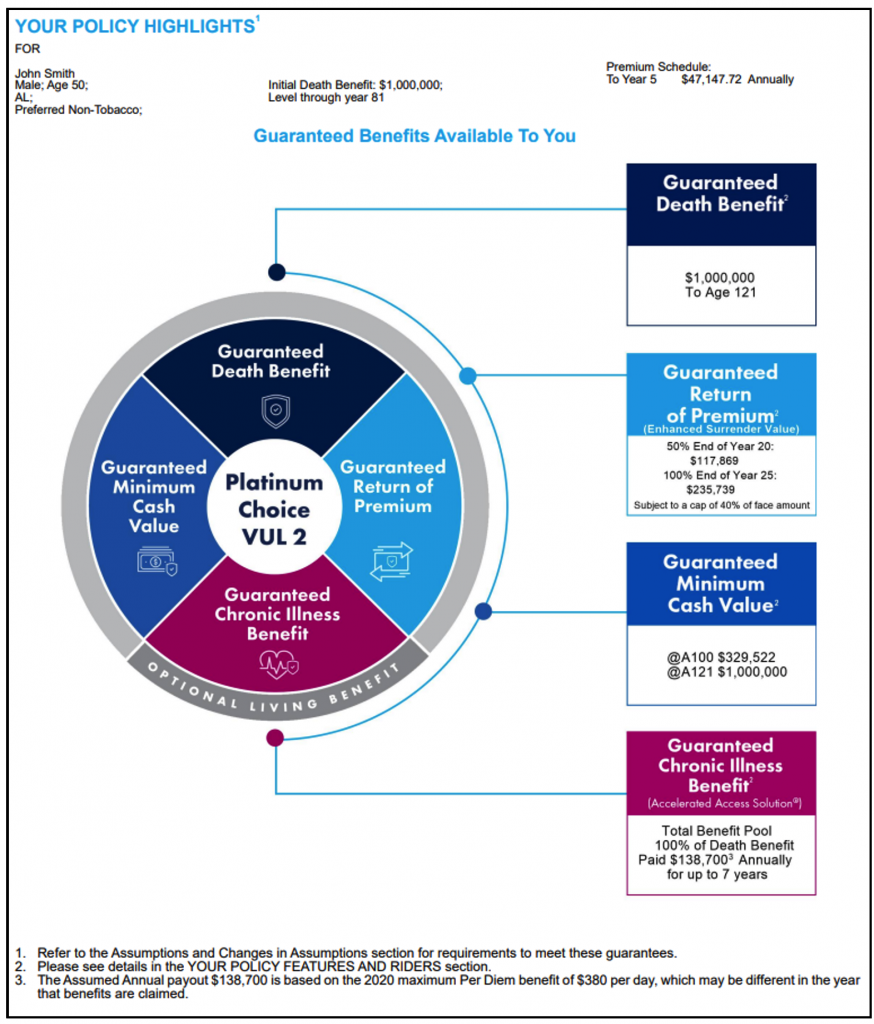 Product Information: https://www-196.aig.com/retire-stronger/products/variable-universal-life/
Product Highlights: https://leadersgroup.net/wp-content/uploads/2020/08/Platinum-Choice-VUL-2-Product-Highlights.pdf
Consumer Guide: https://leadersgroup.net/wp-content/uploads/2020/08/Platinum-Choice-VUL-2-Consumer-guide.pdf
Investment Guide: https://leadersgroup.net/wp-content/uploads/2020/08/Platinum-Choice-VUL-2-Investment-Guide.pdf
---
Contact Charles Arnold for more information:
Sales & Business Development Team Manager
Ext. 123
charles@leadersgroup.net